If you have read about ways to save on your energy bill, you know the need to find cold, drafty spots in ductwork and repair them.
Here we will address the next step: how to seal HVAC ductwork and a review of reasons why it's important.
Why seal HVAC ductwork
Comfort: Sealing HVAC ductwork keeps your home from having hot and cold spots.
Air quality: Removing leaks means the air coming into your home isn't coming from the stagnant areas under or around the house, which could harbor mold or mildew, as well as microscopic pieces of insulation.
Safety: Decomposed animals, gas backdrafts and other things you should avoid breathing in can unknowingly be seeping into your home.
Save money: Reducing air leaks keeps warm air in your house where it belongs. The U.S. Department of Energy estimates that 25% – 40% of heating and cooling energy is lost through ductwork.
Where to start
Many people opt to leave it to a professional to inspect and seal HVAC ductwork. However, if you are handy and ready to tackle it yourself, here is a step-by-step guide.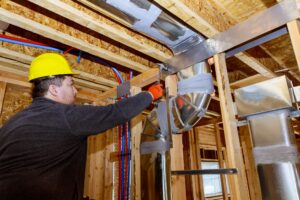 Supplies needed: Foil tape, squeegee, and duct tape
The first item you will need is a good quality foil tape. One great brand is Shurtape, is recommended for flexible air ducts.
It is mold resistant and UL (Underwriters Laboratories) rated, which is important for code compliance. The UL rating ensures the proper adhesive for HVAC systems and strength to stay in place for the life of the home.
To firmly apply the foil tape and properly seal HVAC ductwork, a squeegee is useful to create friction and get the smoothest seal.
Additionally, duct tape with a class 1 rating, is useful for connecting, joining, sealing and patching. The class 1 rating means it will withstand the cold and hot temperatures over a long period of time (rated for -10 degrees up to 210 degrees) and will also reduce combustion in the case of a fire.

Check the air ducts for leaks
Visually inspect the ducts for air leaks as you enter each area the ductwork travels. Depending on the set up of the home, the ductwork could extend through the garage, attic, and crawlspace. Doing a visual inspection will allow you to see if there are any gaps or separations in seams, allowing air to escape.
Clean and seal separations
If you locate an area of separation, it is important to first use a damp rag to wipe the dust off. Allow the moisture from the wipe down to fully dry before applying the foil tape to a section of ductwork. Once the area has dried, foil tape can be applied to the separation in small pieces until the whole area is covered. After the leaking area is covered, a bigger piece of foil tape can be applied and smoothed with the squeegee to provide a second layer of seal.
For gaps in the main lines, duct tape can be used to join the joints. If the previous duct tape is thin, the duct tape can be resealed at the seam using another layer of duct tape or a foil tape. Using one whole piece of either tape will allow for a stronger seal. Using the squeegee for smoother application will look nicer and strengthen the bond as well.
If you are purchasing a home of if you have questions as a first-time home buyer on HVAC or other heating or air conditioning systems, contact us at Pilchuck Heating.
More Advice for Homeowners