Buying a home is exciting so here are some HVAC tips for first-time home buyers to ensure you get the most bang for your buck.
HVAC Tips for First-Time Home Buyers:
#1) Get a home inspection

Home inspections are usually required for obtaining funding for a home loan, but there are some occasions that skipping an inspection may be an option. Whether the house is a hundred year's old or brand-new construction, it is still a good idea to get a home inspection.
The home inspector looks at the foundation, siding, roof and many other aspects of the home. They also look at the age and condition of the heating system, whether it's a central furnace, heat pump, or HVAC system. The home inspector can find potentially dangerous issues such as gas leaks or improper installation. No matter how reputable the builder, there can be issues with leaking duct work, missing insulation, or needed repairs which end up costing you money.
If HVAC problems are documented on the home inspection, first-time home buyers can ask to have them repaired before closing or negotiate a lower purchase price to offset the cost of the repair.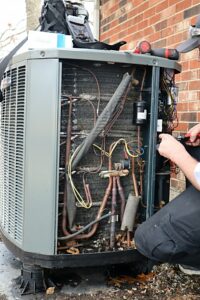 #2) Know the type of heating/cooling system
Whether you know anything about heating and cooling systems, it's important to know what you're buying. Heating is one of the most important components of the home and will be vital for your family's comfort level. Heat pumps save money with their energy efficiency. However, furnaces often use an alternative source of fuel such as natural gas or propane. Furnaces can usually heat a home faster in frigid climates.
Being aware of your system and its efficiency will help you better prepare for the energy costs, maintenance needs, and replacement timeline for the unit(s). And, while it may not seem as important, knowing whether the home has an air conditioning system will matter even more when the heat of summer moves in.
#3) Know the age and maintenance of system
Most HVAC systems, heat pumps, and air conditioners have a life span of ten to fifteen years. Knowing the age of the system can help a first-time home buyer prepare for the upcoming costs of replacement. On average, a furnace or a heat pump cost $3,000 to $5,000 dollars for the new unit and installation.
This can also be a negotiation point if the home is ten years old and will soon need to have the furnace replaced. Asking a seller for maintenance records is also beneficial. Knowing the system has been properly maintained can extend the life of the system and give you confidence that it's been well taken care of.
If you are purchasing a home of if you have questions as a first-time home buyer on HVAC or other heating or air conditioning systems, contact us at Pilchuck Heating.
More Advice for Homeowners